2019
Artist Residency and solo exhibition, Norway

It has been a long desire of mine to be in Norway – now I am very fortunate to be showing my work in a solo exhibition at Galleri Ask. This exhibition is part of my artist residency in Åsgårdstrand, located at the Oslo Fjord.
Please feel very invited to come.
Opening: July 6th, 2019
Exhibition open through July, every Saturday and Sunday
12 am – 4pm and by appointment
Galleri Ask
N.C. Nielsensgt, Rådhuskvartalet, Åsgårdstrand
---
BAR K, Berlin
I'm very happy to be part of the two-person show with Tom Früchtl curated by Daniela Dahlke in the BAR K, Köthener Straße 28, Berlin.
Please feel warmly invited to the performance at 8 pm on May 18th and on May 21, 2019.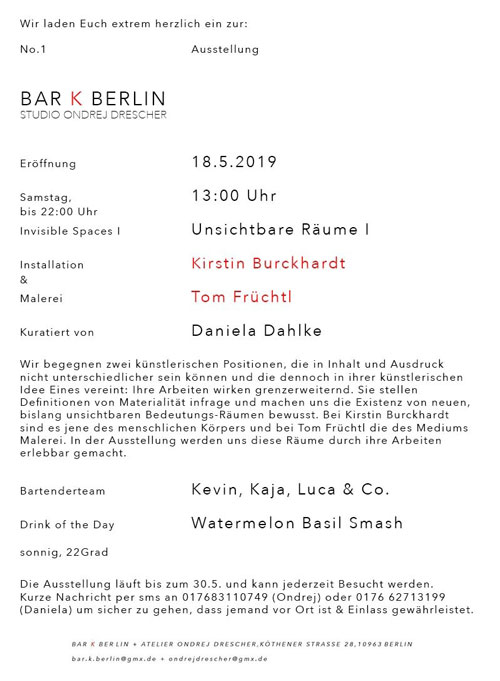 ---
Symposium at Kunsthaus Hamburg: I, too, part two – Was ist Kunst wert?
I, too, part II
Was ist Kunst wert?
Symposium
zu Gast im Kunsthaus Hamburg
25. Mai 2019, 10.30 – 16:00 Uhr
Nirgendwo sonst klaffen hard facts so stark auseinander wie in der Kunst: Die prekären Arbeits- und Lebensbedingungen von Künstler/innen und der Glanz- und Glamour-Faktor auf Ausstellungseröffnungen, Biennalen und Messen. Aber auch Museen und Institutionen haben mit prekären Bedingungen und hohen Anforderungen zu kämpfen, welchen sie kaum noch gerecht werden können. Nach dem Kick-off Panel I too, have been seduced by the promise of exposure vor einem Jahr gehen wir in die zweite Runde. Das Symposium I, too, part II rückt den gesellschaftlichen Wert kritischer Kunst in den Fokus und beleuchtet die Dringlichkeit, dafür bessere Bedingungen zu schaffen.
In Zeiten globaler Aufmerksamkeitsökonomien, internationalen Wettbewerbs- und Netzwerkstrukturen, sowie urbaner Diversifizierung muss lokale Kulturförderung im globalen Kontext neu überdacht werden. Der gesellschaftliche Wandel hat auch die Arbeits- und Produktionsbedingungen von Kunst maßgeblich verändert. Er fordert ein Neudenken des herkömmlichen Verständnisses von der Rolle der zeitgenössischen Kunst und den Voraussetzungen unter welchen sie entstehen und wie sie in die Gesellschaft zurück wirken kann.
Eingeladen sind sowohl lokale Akteur/innen als auch Vertreter/innen aus überregionalen Zusammenhängen, um in drei Gesprächsrunden über die aktuelle Situation von Künstler/innen sowie über zukunftsweisende Möglichkeiten und Perspektiven der Förderung von künstlerischer Arbeit zu diskutieren. Die Gespräche werden thematisch von einem Performance-Programm begleitet.
Eintritt frei
VERANSTALTER
I, too ist eine Initiative von individuell vernetzten Künstler/innen und Kulturschaffenden aus der Hamburger Kunst- und Kulturlandschaft. Wir bieten im Rahmen unterschiedlicher Formate eine Plattform, um die Arbeitsbedingungen im Kontext von Kunst und Kultur zu verhandeln. Wir möchten ein öffentliches Bewusstsein für diese Thematik schaffen und den Blick für die differenzierten Zusammenhänge schärfen. Der Name der Gruppe geht auf die Abwandlung eines Marcel Broodthaers-Zitats zurück und bezieht sich auf die Verführungsmacht des Wert- und Erfolgsversprechens von kreativer Arbeit.
Konzept: Johanna Bruckner, Anna Nowak, Alice Peragine
Am Programm haben mitgewirkt: u.a. Kirstin Burckhardt, Johanna Bruckner, Móka Farkas, Tanja Hehmann, Ida Lennartsson, Anna Nowak, Franziska Opel, Alice Peragine, Dagmar Rauwald, Benjamin F. Stumpf.
---
GROW A BODY at KAI10-Arthena Foundation, Düsseldorf
Very excited to show the performance Grow a Body with Gloria Höckner as part of the exhibition Body in Pieces curated by Julia Höner at KAI10.
Thank you for all that joined us at the performance on May 2nd, 2019 at 7 pm!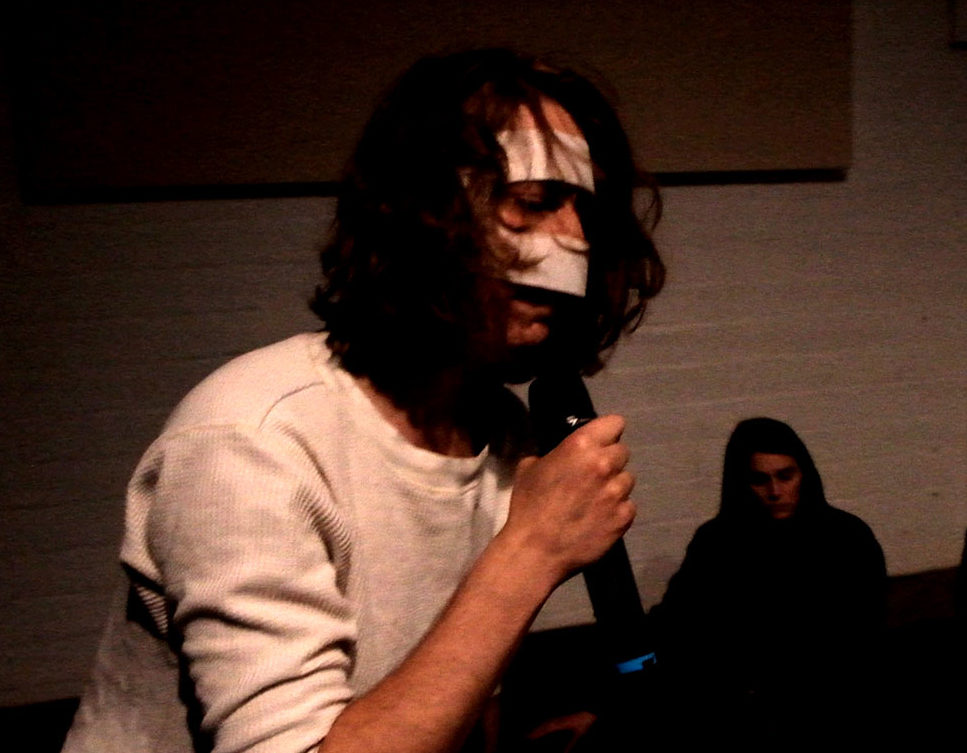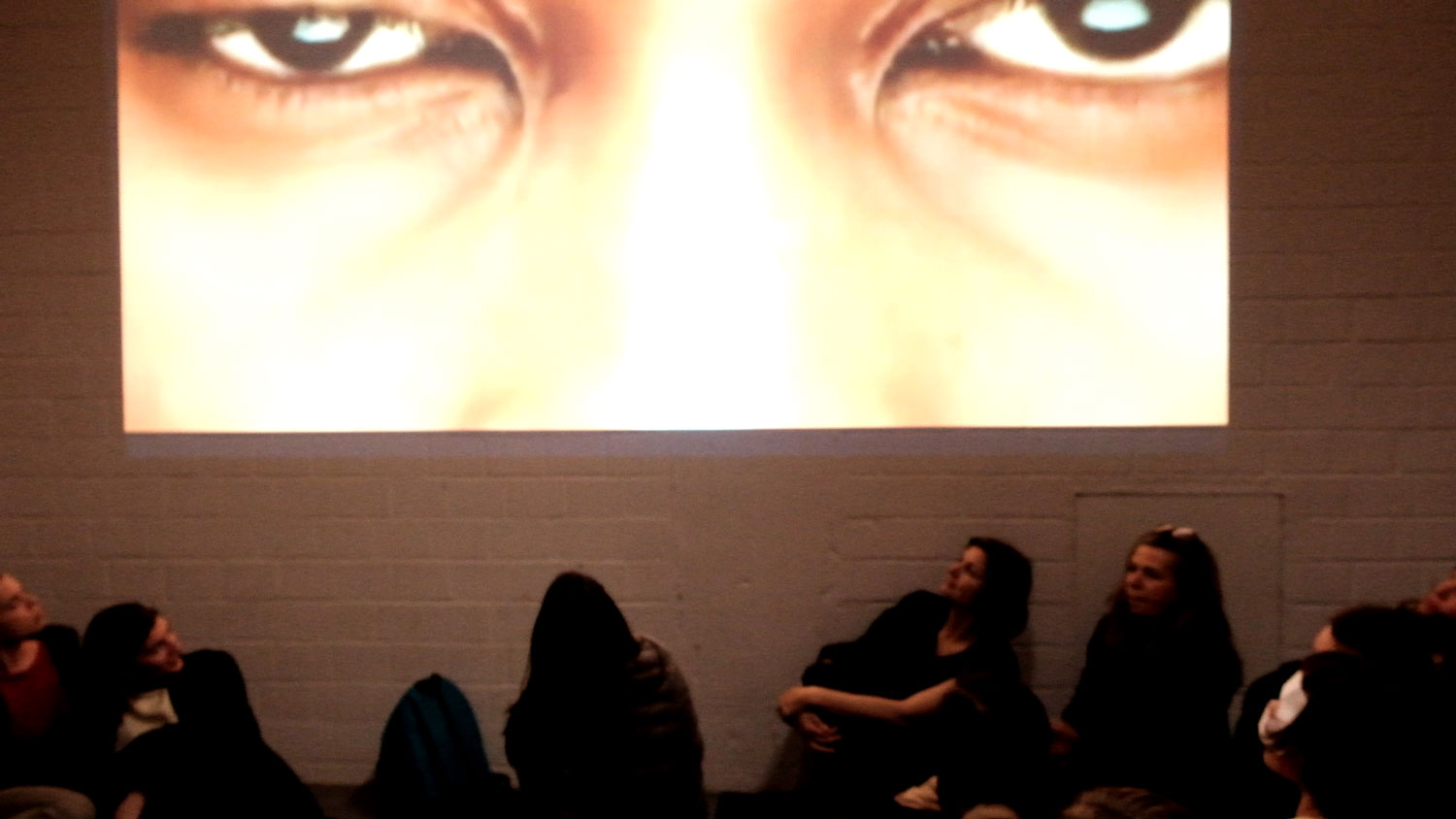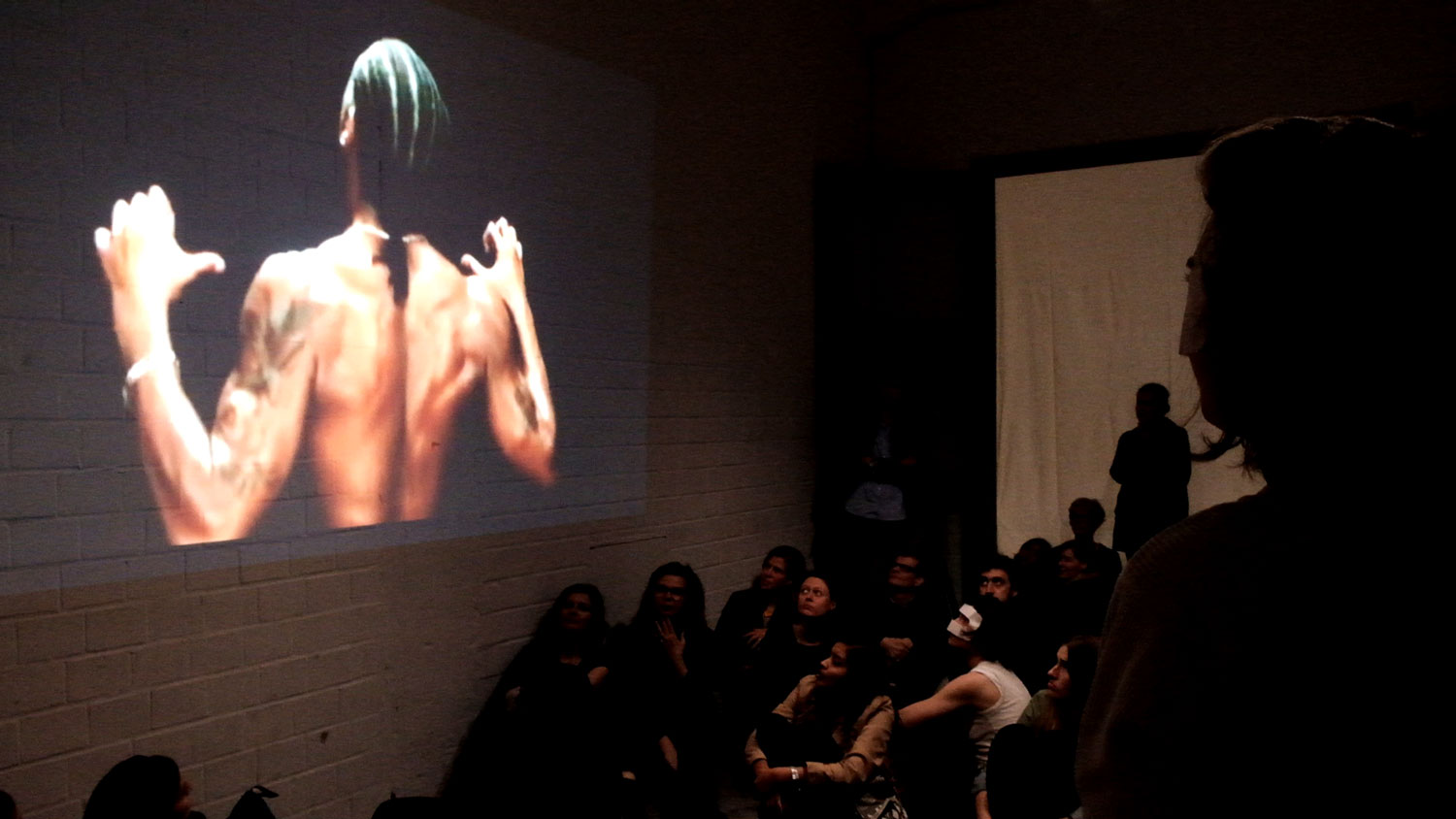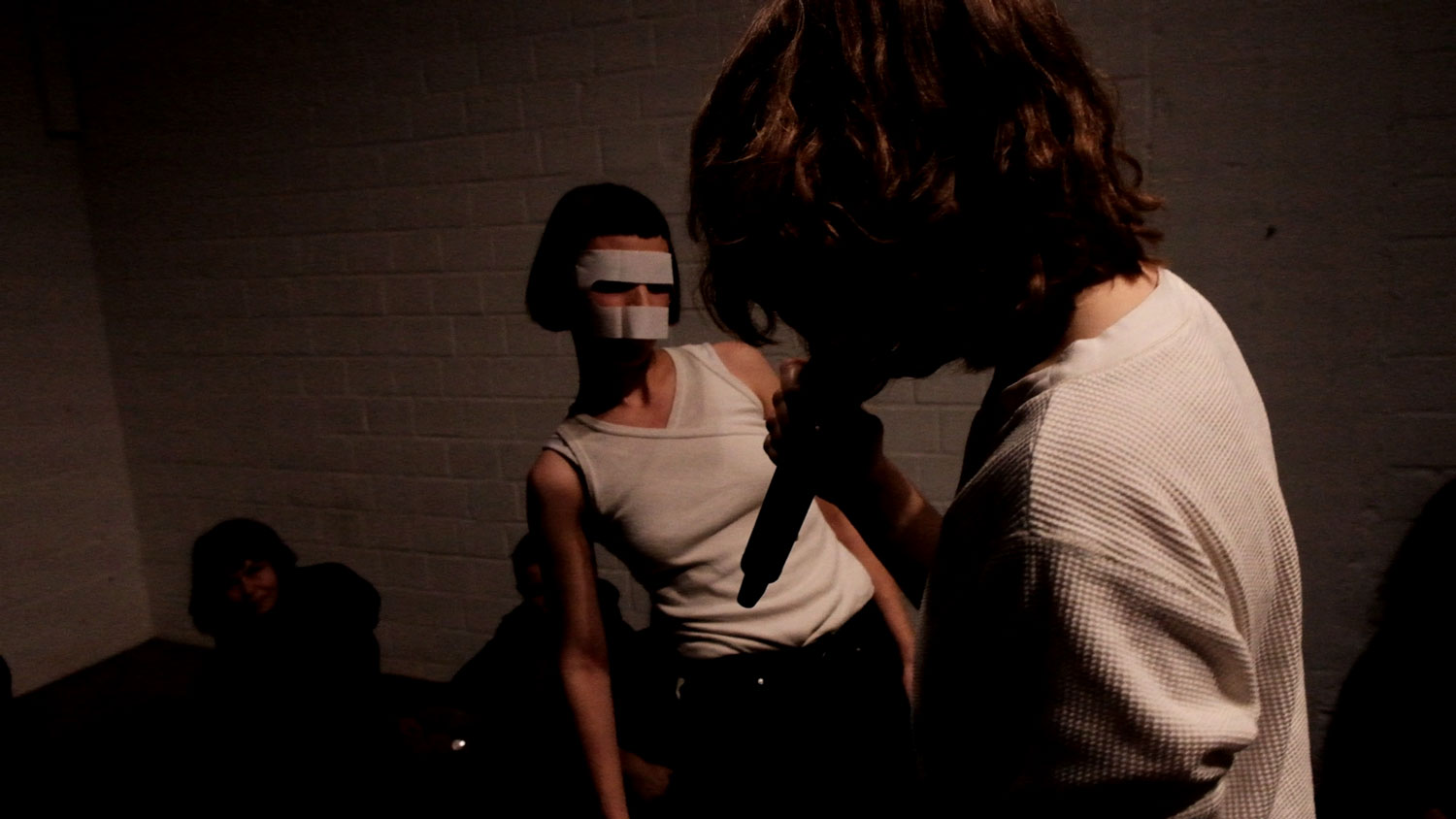 https://www.kaistrasse10.de/ausstellungen/body-in-pieces.html
The artists of Body in Pieces dedicate themselves to the human body as a focal point at which pressing queries coincide, concerning the technological and social conditions of human existence, for instance. Knowledge about the body today reveals itself as being both relational and frayed. Take, for example, the notion of increasingly technically interconnected, posthuman bodies, competing with the traditional identity- and gender-based images that are predominantly and persistently in circulation. In the works of the seven international artists, the body consequently appears as a rather fragmented and ambiguous entity—in which power and control manifest themselves and which is economically and socially appropriated. At the same time, the body still represents our organic basis—from where innumerable wishes and desires are formulated.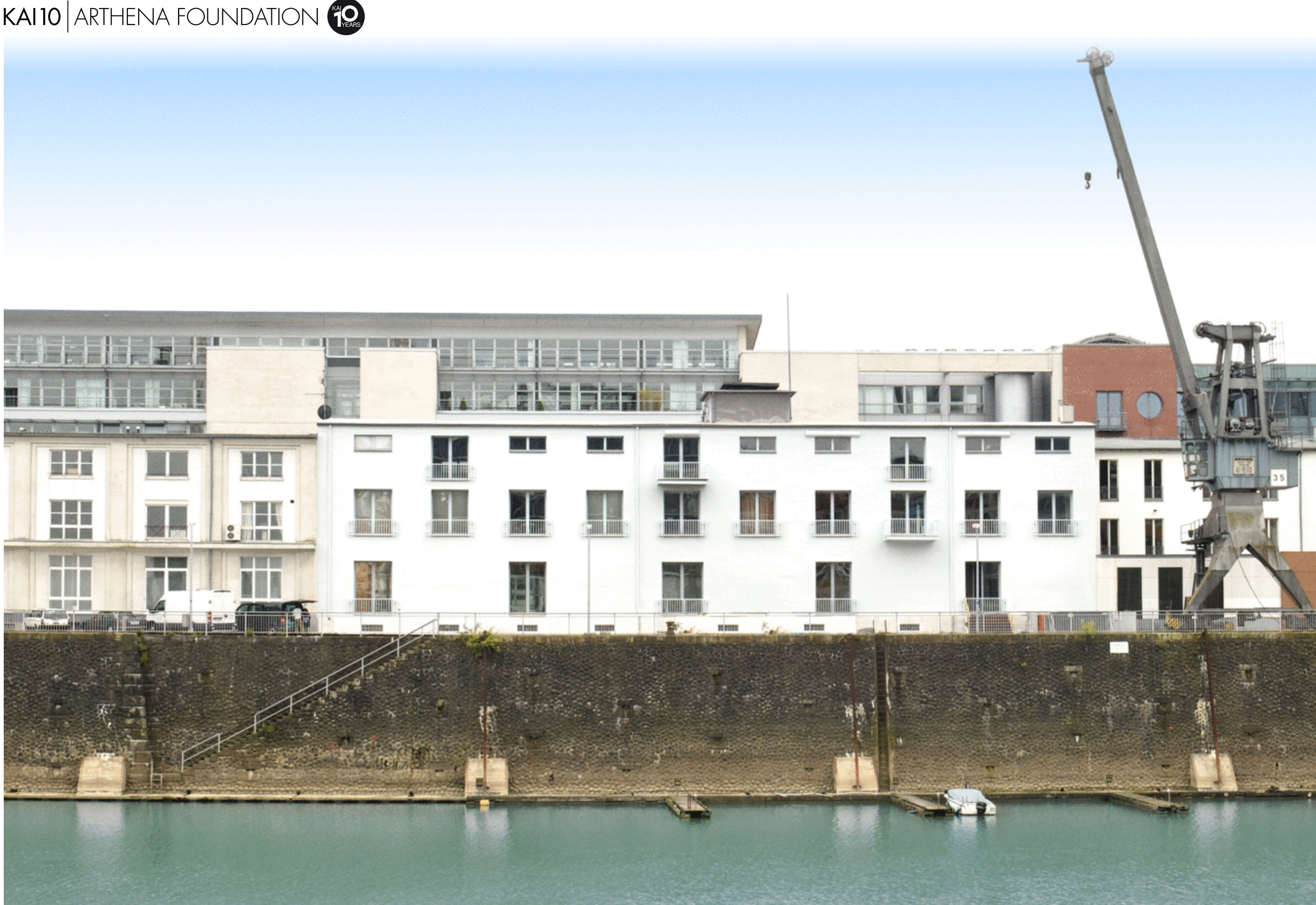 ---
Interview on Body Ownership @ reboot.fm
Diving into my fascination with the term "Body Ownership", this interview offers an in-depth plunge into my ongoing research.
So grab yourself a glass of good Whisky or Tea, get comfy, and join me in the radio hour of "Radiosalon für Alltägliches" with Anna-Lena Wenzel and Julia Bonn: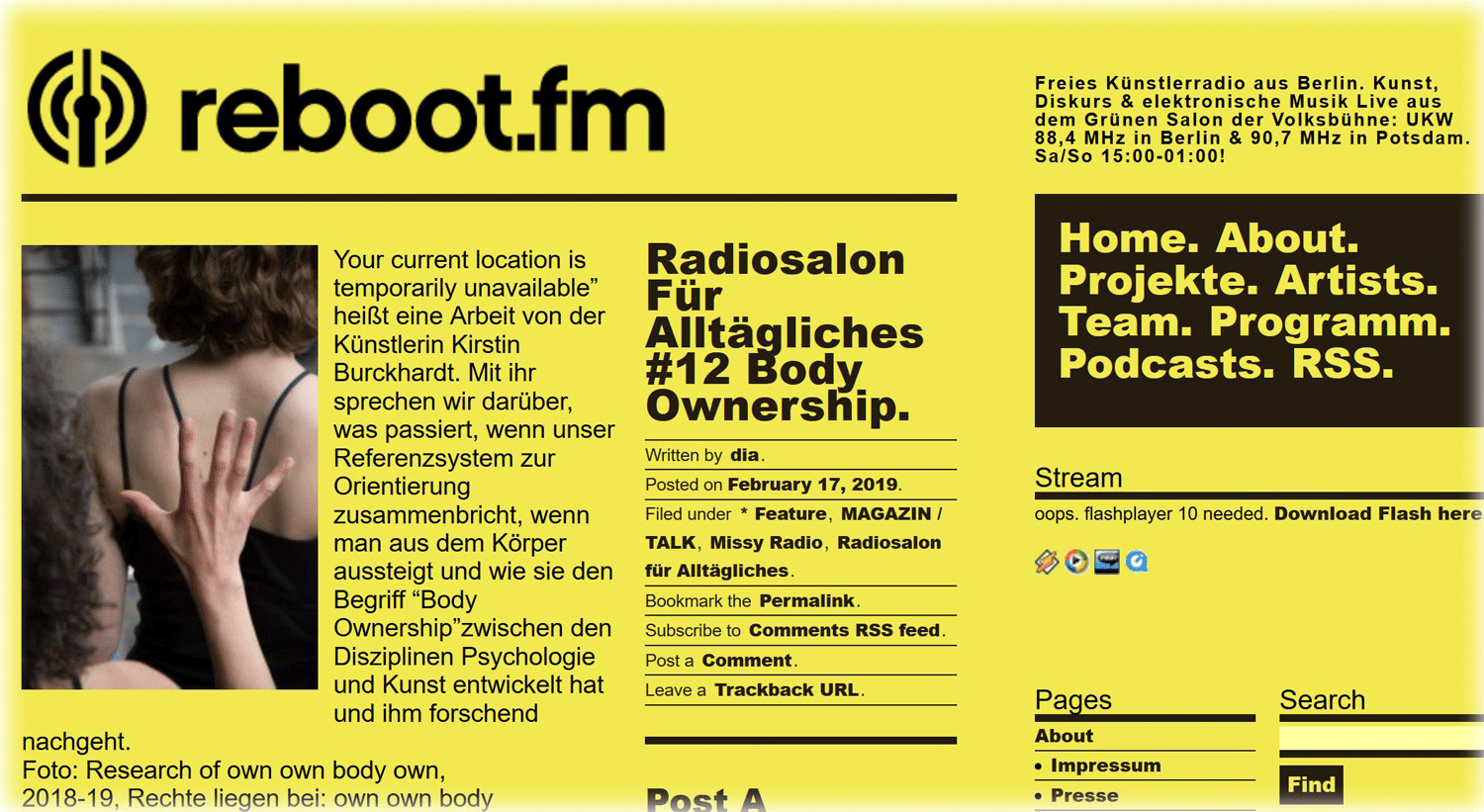 ---
2018
SIGHT-SPECIFIC INTERVENTION, MUSEUM OF MEDICAL HISTORY, HAMBURG
May 3rd, 2018, 6pm
It is a special opportunity to show the sight-specific intervention
It is prohibited to sit, stand or lie on the autopsy tables [Es ist untersagt, auf den Sektionstischen zu sitzen, zu stehen oder zu liegen] at the Institute for History and Ethics of Medicine at the Museum of Medical History, Hamburg.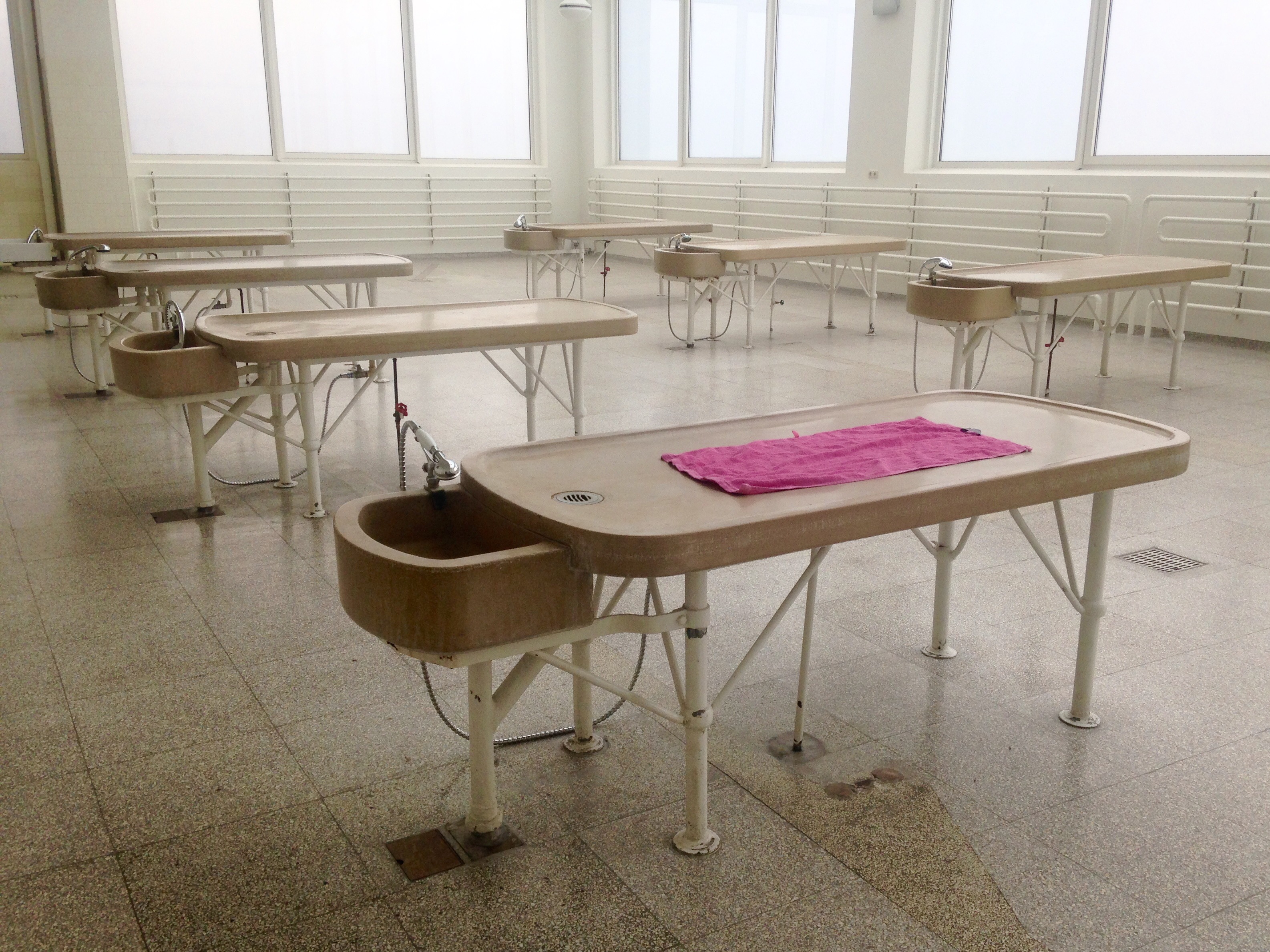 The intervention is connected to the conference "Material Cultures of Psychiatry" that takes the "material turn" as a basis for discussing issues related to psychiatry, mental health and power dynamics. Here's more (
website
):
"In the past, our ideas of psychiatric hospitals and their history have been shaped by objects like straitjackets, cribs and binding belts. These powerful objects are often used as a synonym for psychiatry and the way psychiatric patients are treated. But what do we really know about the social life (see Majerus 2011) of psychiatric patients and the stories of less spectacular objects in the everyday life of psychiatric institutions? What do we know about the material cultures of these places in general?
The workshop will use the term "material cultures" very broadly and in the plural. This term refers not only to medical objects, objects of therapy and objects of care, but also to everyday cultural objects. The latter are subject to change when they enter the realm of psychiatry, where they become part of the specific cultural praxis of psychiatric institutions: a bed clearly changes its meaning in a psychiatric hospital, but so do flowers, a mirror and a blanket. The term "material cultures" also includes phenomena that have a material dimension like air, light, colours and sound (see Kalthoff et al. 2016). The use of the term in the plural should make us aware of the different, often competing cultural practices that emerge when we focus on the application and appropriation of objects and materials by patients, doctors and nursing staff. It also raises the question of the extent to which material cultures influence both therapeutic treatment and the production of knowledge."
---
ARTIST IN RESIDENCY & MATERIAL COLLECTION, MEDELLÍN (COLOMBIA)
March 2018
Very happy and proud about being in Medellín, Colombia to realize the
international and transdisciplinary co-production own own body own with Brenda I. Steinecke Soto.
Please feel warmly invited to follow our research process on instagram: ownownbodyown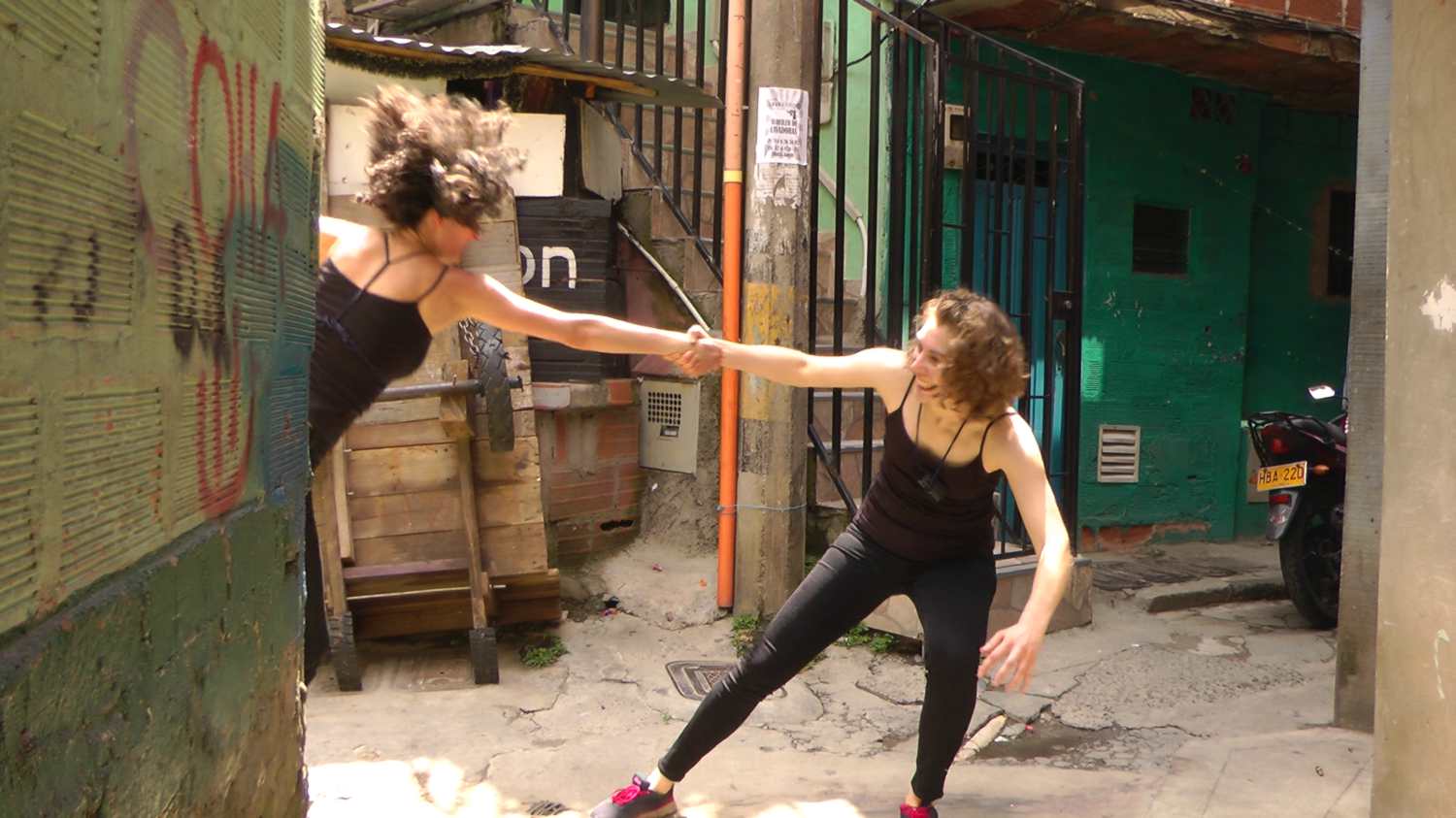 GROUP SHOW AT DEICHTORHALLEN/FALCKENBERG COLLECTION
February, 2018
I'm looking forward to showing my new video piece "How does it feel?" with a group of
very interesting artists in Hamburg. We have received the one-year working stipend by the city of Hamburg and now we're presenting our work together at the Falckenberg Collection:
36. & 37. HAMBURGER ARBEITSSTIPENDIEN FÜR BILDENDE KUNST ZU GAST IN DER SAMMLUNG FALCKENBERG
Opening:
Friday, 9 February 2018, 7 p.m.
Exhibition:
February 10-25, 2018
Open on Sundays 12am – 5pm
Deichtorhallen Hamburg − Sammlung Falckenberg
Wilstorfer Straße 71
21073 Hamburg − Harburg
2017
---
GROUP SHOW AT MÄDCHENKAMMER, BERLIN
So happy to be part of the one-time show joining 20 artists from Norway, UK, Sweden,
Germany and Estonia for just a couple intense hours in a small hotel in the middle of Berlin! 
Dania Burger, Eli Skatvedt and I will be showing BETT, a mystically-odd, imagery-indulging
and energy-packed performance. Don't be late!
At hotel: Mädchenkammer, Lottumstraße 20, 10119 Berlin from 15 – 22 hrs
Four scheduled viewings of BETT: 16.30, 18.00, 19.30, 21.00 hrs
The participating artists:
David Edward Allen (UK)
Veronica Brovall (SWE)
Peder K. Bugge (NOR)
Kirstin Burckhardt (GER)
Dania Burger (NOR/GER)
Crispin Gurholt (NOR)
Anna Jakob (GER)
Lars Monrad Vaage (NOR)
Randi Nygård (NOR)
REGLER (Andreas Soma, Anders Bryngelsson and Mattin) (NOR/SWE/ES)
Claudia Reinhardt-Teljer (GER)
Nicolas Siepen (GER)
Eli Skatvedt (NOR)
Martin Skauen (NOR)
Tegneklubben (NOR)
Per Teljer (NOR)
Marian Wijnvoord (NL)
Munan Øvrelid (NOR)
---
COLLABORATIVE RESIDENCY AND SHOWING AT  HINTERCONTI, HAMBURG
Ich möchte ganz herzlich einladen am Samstag, den 21.10.2017 um 19:30 Uhr
ins hinterconti Hamburg (Marktstraße 40A) zum Showing von:
small-scale spectacle ist das performative Ergebnis der kollaborativen Recherche-Residenz der
bildenden Künstlerin Kirstin Burckhardt und der Tänzerin Lisa Rykena im Herbst 2017 im
hinterconti, Hamburg. Bei dieser Zusammenkunft geht es um die künstlerische Auseinandersetzung
mit dem wissenschaftlichen Begriff Body Ownership und die damit verbundenen Fragen: Habe ich
einen Körper? Bin ich ein Körper? Diese Fragen aufgreifend beginnt die Residenz mit einem Gespräch
zu Dritt und geht weiter:
Schritt für Schritt werden Wörter ausgetauscht, Perspektiven verwechselt und Körper verrückt.
Textfragmente, Klang und Körperbilder verdichten sich zu einer geschichteten Masse, die sich auflöst
und neu zusammensetzt. Es bildet sich das 'small-scale spectacle' – ein Korpus aus Fragmenten. Etwas,
was nicht behauptet ganz zu sein und doch ganz da ist. Eine geteilte Zeit in wabernden Räumen. Es geht
um das Schauen. Mit Masken, Harfen und Ego Shootern. Aus pluraler Ich-Perspektive. Wie die Narrative,
die an Schaufenstern stattfinden. Keine Bühne wird drapiert. Wir erwidern den Blick in alle Richtungen und
fragen: Wie groß ist die Wolke der Partikel, die wir in die Luft pusten?
---
GROUP EXHIBITION AT HAMBURGER BAHNHOF, BERLIN
How exciting: I'll be showing Grow a Body with wonderful Gloria Höckner
at Hamburger Bahnhof in the context of the Festival of Future Nows.
Grow a Body will take place Friday and Sunday at 7:30 pm.
A cooperation by the Institut für Raumexperimente and the Nationalgalerie – Staatliche Museen zu Berlin
14–17 September 2017
Hamburger Bahnhof – Museum für Gegenwart – Berlin
Invalidenstraße 50-51
D – 10557 Berlin
Opening:
14.9.2017, 19:00–23:00
Opening hours:
15.9.2017, 10:00–23:00
16–17.9.2017, 11:00–23:00
Admission free
---
ZINE AT BUCHHANDLUNG WALTHER KÖNIG
While at the Festival of Future Nows at Hamburger Bahnhof, please come by to check out the artists' publications.
Please also feel warmly invited to take a look at my self-published artist zine available at Buchhandlung Walther König:
---
GROUP EXHIBITION AT CENTRUM, BERLIN

I'm looking forward to performing Grow a Body for the first time in Germany at Centrum's opening on June 30th, 2017 at 8pm!
This performance was first shown with Brenda I. Steinecke Soto in February in Colombia and she has been my incredible
choreographic advisor for the upcoming performance in Berlin. This time, talented performer Gloria Höckner, who has
attained her MA in Performance Studies at the University of Hamburg, will accompany me.
So please feel welcome to join us at Centrum!
Centrum: "Grow a Body (2017) centres around a rhythmic, pulsating reading of a text which poses the
question: When is your body complete? This question is echoed in the feeling of some people who disidentify so strongly with a
ligament that they self-amputate ('Body Integrity Identity Disorder'). In the performance, this feeling is carefully embedded within
the sensation of completely dissociating from your body when in a traumatic situation, raising questions about subjective and
alternative truths, [and] the relationship between alienation and violence…"
---
GROUP EXHIBITION AT CENTRUM, BERLIN
My recent audio piece Imagination is a powerful tool will be part of Centrum's upcoming exhibition
presented in the context of the Berlin art festival '48 Stunden Neukölln':
"Curated by Mareike Spendel, Aurica Kastner and Kate Davis this exhibition was conceived in response
to the confusion between true facts and fake news, heightened by 24-hour news cycles, social media
and populist rhetoric. Artists play a pivotal role in warning and reminding of reality's different shades
and how it can be exploited by power, and on this occasion we have invited Kirstin Buckhardt,
Emma Howes, Max Grau, Jae Kyung Kim, Stefano Miraglia, Hana Sackler and Jonathan Vinel to shed light
---
RECIPIENT: PROJECT FUND BY THE CITY OF HAMBURG
Brenda I. Steinecke Soto
and I are very excited that our collaborative, interdisciplinary, and international project
"own own body own" (in Medellín, Colombia and Hamburg, Germany) will be sponsored by
Office for Cultural Affairs of the city of Hamburg (Kulturbehörde Hamburg).
---
RECIPIENT: PROJECT FUND BY THE HAMBURGER KULTURSTIFTUNG
"own own body own" has a new co-sponsor and Brenda and I are grateful for this wonderful support by the
Hamburger Kulturstiftung. We are looking forward to bringing this collaborative and interdisciplinary project
to Medellín (Colombia) and Hamburg (Germany).
---
RECIPIENT: WORKING GRANT 2017 BY THE CITY OF HAMBURG
I am honored that my work has been selected for the
Fine Arts Working Grant (Arbeitsstipendium) 2017 by the city of Hamburg.
The one-year grant is accompanied by an exhibition and a catalog in 2018.
---
NOMINEE EXHIBITION: 'ARS LOCI 2017' PRIZE
My work has been selected for nomination of this year's 'ars loci 2017' prize
granted by the city of Nienburg (Weser) with the Neuhoff-Fricke Foundation
for the promotion of the arts and sciences. I am very glad to be nominated and
to show my newest work.
Opening / Eröffnung
Friday March 31 at 7 pm / Freitag, 31. März, um 19 Uhr
Rathaus Nienburg (Weser) & Kirche St. Martin
Kirchplatz 4, D-31582 Nienburg
---
TRAVELING GRANT BY THE IFA + CITY OF HAMBURG

I am very happy to have been selected for the traveling grant by the ifa (Institut für Auslandsbeziehungen)
and the Office for Cultural Affairs of the city of Hamburg (Kulturbehörde Hamburg)to collaborate with the
choreographer Brenda Isabel Steinecke Soto in Medellín, Colombia in spring 2017.
---
2016
NOMINEE EXHIBITION: WORKING GRANT BY THE CITY OF HAMBURG
(ARBEITSSTIPENDIUM BILDENDE KUNST) 2017, KUNSTHAUS HAMBURG
December 5th, 2016 – January 8th, 2017
Eröffnung / Opening
05.12.2016, 19 Uhr / 7pm
Einführung / Introduction: Dr. Carsten Brosda (Staatsrat für Kultur, Medien und Digitales) und
Anna Sabrina Schmid (Kuratorin, Kunsthaus Hamburg)
Führungen / Guided Tours
Donnerstag / Thursday, 15.12.16, 18 Uhr / 6 pm
Sonntag / Sunday, 08.01.17, 15 Uhr / 3 pm
Kunsthaus Hamburg
Klosterwall 15, 20095 Hamburg
---
FINISSAGE: FRAUD, FAKE AND FAME – Goldrausch 2016

October 16h, 2016:
4 pm:
—Guided tour with Dr. Ines Lindner, art historian
from 5 pm:
—Comic reading "Renate und Rudolf" 
by and with Bas | Bas Backer 
with: Lucie Biloshytskyy, Live-Sounds von ASI-ES
—«Do you hear them through your ears or in your head?» Performance by Kirstin Burckhardt
Live singing: Marcus Gartschock, Lea Hanselmann and Martin Lorenz
—Performance by Alanna Lynch 
Ongoing research and intervention into the body. 
—Karatetalk, Performance by Rike Horb
—Der Trancende Teppich, Performance by Anna Steinert 
with: Julia Frankenberg, Nschotschi Haslinger, Lou Hoyer, Jasmin Preiß, Fabian Schoog und Jonathan Strotbek
EXHIBITION: FRAUD, FAKE AND FAME – Goldrausch 2016
October 1st – 16th
Andrea Acosta, Bas | Bas Backer, Lucie Biloshytskyy, Kirstin Burckhardt, Dania Burger, Birte Endrejat, Elisa Ewert, Ulrike Hannemann, Rike Horb, Stefanie Kägi, Dina Khouri, Alanna Lynch, Dagmar Schürrer, Anna Steinert, Nina Tobien
Curated by Birgit Effinger, Hannah Kruse und Kerstin Gottschalk
St. Johannes-Evangelist 
Auguststraße 90, 10117 Berlin
S Oranienburger Straße